Certified or sworn translator and interpreter of English duly authorised by the Spanish Ministry of Foreign Affairs, European Union and Cooperation
,
 as established in the additional provision Sixteenth of Law 2/2014, of March 25, modified by the fourth final provision of Law 29/2015, of July 30.

Purposes of a certified or sworn translation
As a rule, all documents submitted in Spain must be translated by a translator certified by the Spanish Ministry of Foreign Affairs and Cooperation; however, in many cases, documents translated internationally and submitted to various consulates and embassies can be translated within the respective country by translators certified within the country of submission.
In other words, a certified translator in the United States is able to translate documents for one of the Spanish Consulates located in the United States, but not if the documents are to be presented in Spain.
About The Hague Apostille
If you need to legalize a document internationally, you might require the
The Hague Apostille
.
In such case, this Apostille must be added to the original document before ordering the certified or sworn translation, since the Apostille has to be translated too.
Features of a certified or sworn translation
According to the provisions regarding the seal and certification contained in Order AEC-2125-2014, of November 6:
- Both, a copy of the original document and the translation must be delivered together.
- All pages from the copy of the original document must be sealed and dated by the translator.
- The translation must show on the last page a certification sealed, dated and signed by the translator like this.
Certified and sworn translations in the digital era

According to the communication published by the Office of Language Interpretation on 6th April 2020,
electronically signed translations are considered valid
as long as: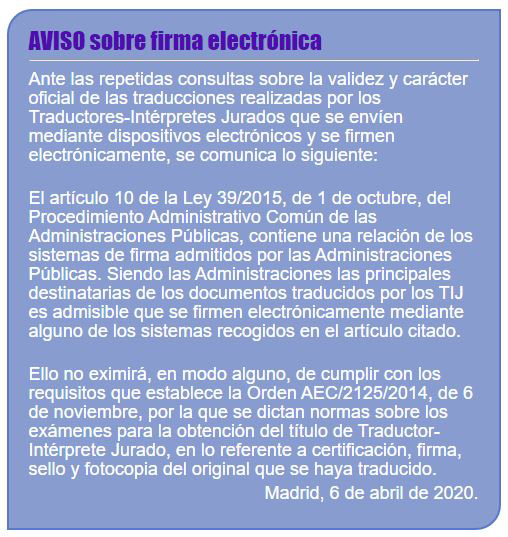 Typical documents requested
Regarding written documents, typical requests of certified and sworn translations include:
- Criminal records
- Marriage and divorce certificates
- Birth and death certificates
- Judicial documents
- Agreements
- Invoices and fiscal forms
- Identity documents
- Transcripts and diplomas
Do you need certified or sworn translations for other languages?
In order to provide information to citizens, the Office of Language Interpretation, the highest organ of the State Administration in matters of translation and interpretation of languages, periodically prepares and publishes a List of all Sworn Translators-Interpreters who have been appointed, indicating the language or languages for which translation and interpretation have been enabled.